Colin D'Cruz is a very popular name in the music industry in India. Having started off playing for resident bands at various hotels in Mumbai in the mid-70s, Colin has enjoyed a glorious career that has seen him work with many popular musicians including Sonu Nigam, Asha Bhonsle and Shubha Mudgal. He is also the founder of Jazz Goa, a non-profit organisation based in Sangolda which works to promote Indian Jazz talent from Goa, across India and around the world.
In a brief chat with our staff writer Steve Antao, Colin shared a few insights into his childhood, his musical career, famous musicians whom he has worked with, and lots more…
Excerpts
Steve: Tell us a bit about yourself.
Colin: I was born and brought up in Mumbai. My ancestral home is in Thivim. I moved to Goa only in the year 2008 with one big regret, I should have moved earlier.

Steve: What was your childhood ambition?
Colin: I really don't remember having any ambition as a child, or as an adult for that matter. In fact, I still don't have any ambition.
I landed up becoming a musician simply by following my passion and not an ambition. Music took me around the world to places I couldn't imagine visiting as a child. So it wasn't any dream or ambition. I simply loved music and decided to spend my life playing music.

Steve: As a child, who were the artists whose music you grew up listening to?
Colin: My first unforgettable memory as a toddler was hearing a live band perform at some event my parents took me to. I clearly remember it as a magical moment. That moment stayed in my subconscious mind and could probably be the reason why I chose music. I clearly remember a Glen Miller big band record called 'In The Mood' playing at home. It literally put me in the mood for jazz!

Steve: When did you start to learn the guitar? Is there any particular person whom you credit with introducing you to music?
Colin: I always wanted to play the guitar as a child but got hold of one only in my teens. The moment I got one, I started picking out melodies before learning how to tune it. They may have been strange melodies, but they were melodies. A little later, I got together with a few of my school friends to form a band and hoped to make it big like 'The Beatles'. From the response we got from our neighbours, it looked like we would get beaten up before getting anywhere near 'The Beatles'. Once I decided to play professionally, I got hold of some books that taught me the rudiments. I used to play along with records and cassettes, picking out the bass lines of my favourite bass players by ear. Then came music videos and I promptly started imitating the stance and facial expressions of the artists whom I liked. Seriously though, most of my learning came from listening to music.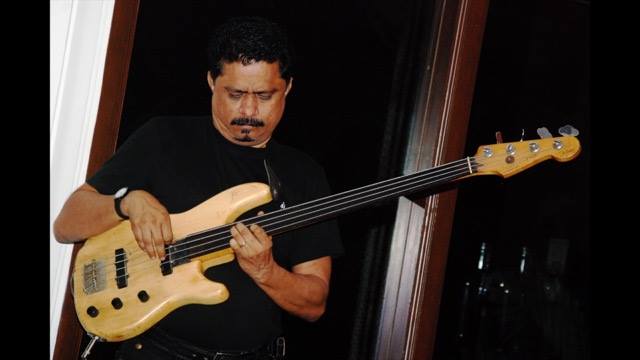 Steve: Give us a detailed insight into your journey as a professional jazz musician.
Colin: It was like the best way to learn how to swim. I was thrown into the deep end. I began playing professionally in the mid-seventies on hotel resident band contracts. In those days, most five star hotels in Mumbai featured six to eight-piece bands, six nights a week and I suddenly found myself in one. These bands usually played 'jazz standards', which was the popular nightclub music of that time. To me, it was all 'jazz'. I literally learnt to play the right notes by ear, simply because of the horrible look I got from fellow members when I hit a wrong note.
Within a few months, I learnt to 'hear around the corner' and play a decent bass line, even on songs I never heard before. In hindsight, I think that was the best possible ear training I got on the job. I always believed in myself and I think that helped me in a profession that can be cruel. There's a saying "Show business is full of jealous backstabbers, cheaters and liars and that's just the good side!" Anyway, I simply agree with the phrase "There's no business like show business." I love music and I love my work, whether it is performing, recording, curating, producing or simply encouraging our amazing young talent in Goa.
Steve: We have heard that you have worked with Sonu Nigam. How did Sonu Nigam discover you and how was your experience working with him?
Colin: The Indian film industry artists usually appoint an 'organiser' who takes care of lining up the band. One of these organisers invited me to join Sonu's band. I went for a rehearsal and met Sonu. After meeting him, I discovered that he was a rock star masquerading as a Bollywood playback singer and I immediately joined his band.
Of all his international tours, I clearly remember a concert in Nairobi. At that time, his super hit 'Kal Ho Na Ho' had just been released. He sang it and people screamed for an encore. He sang it again and people screamed 'once more' even louder. This went on until Sonu gave up after five renditions of the same song in sequence. He begged the audience to allow him to sing other songs too. The concert went on for six hours. I have yet to hear of an artiste who can keep his audience riveted for that long.
Steve: Apart from Sonu Nigam, are there any other famous singers and music directors from Bollywood whom you have met or worked with?
Colin: I have performed with Asha Bhosle and Shubha Mudgal, who are two of India's biggest music icons. We rehearsed with Asha's band at her husband, the late musical genius R.D. Burman's apartment. She showed us a harmonium on a table that Burman composed most of his songs on. It was left exactly in the same spot he had left it at before passing away. Shubha Mudgal was an unforgettable experience simply because of her simplicity even after scaling such great heights in the field of music. Carnatic singing legend Rama Mani also invited me to perform in her global fusion band called 'Trimukhi'.
Steve: Any memorable incident/story from your life that you would like to share with us?
Colin: I was invited to perform on the 'Hennessy XO Smooth and Mellow International Jazz Tour'. Now, this was always relegated to world famous 'Blue Note' recording artists. For the first time, a band from Mumbai was invited, simply because one of the Hennessy head honchos who heard us at a corporate event in Mumbai insisted it should be us. We toured as world-famous jazz artists even though not many people knew me beyond Kalina where I lived in Mumbai. We were treated like royalty during that tour. Individual limousines for each band member, hospitality and stay at only the best hotel in each country and the most amazing production for each concert we played. It felt good to be a rock star, but then the tour ended and it was time to get my feet back on the ground again.
Steve: Finally, is there any message or words of advice that you would like to share with all our Goan youth, especially those aspiring to become musicians in the near future?
Colin: My advice to local youth is to embrace technology by all means but make sure you hone your skill on a musical instrument or your vocal cords if you are a singer. There's more to music than just pressing the 'play' button!