The coastal belt of North Goa is known globally for its electrifying atmosphere and its bustling nightlife. It is home to many scenic beaches, nightclubs, flea markets, and various other tourist attractions. Every year, tourists from all across the globe flock to the various places of tourist interest in North Goa in large numbers. Also, many people from different parts of India celebrate their engagement parties and weddings on the shores of one of the many beautiful beaches in North Goa. Not to forget, many families come down to the beaches of north goa along with their kids for a much-needed break during the school holidays. Due to the high number of footfalls that it receives, many hotels and resorts have cropped up in different areas of North Goa. Among them are several cheap hotels in North Goa which are very low priced to suit the budgets of low and middle-income tourists who are unable to afford accommodation in starred hotels and resorts. Here's a list of the top cheap hotels in North Goa to put up during your next vacation.
Silver Sands Holiday Village, Candolim
First on our list of top cheap hotels in North Goa is the Silver Sands Holiday Village in Candolim. It is a family-friendly hotel offering various types of lodgings, ranging from standard rooms to superior rooms to private cottages.
The standard rooms are small rooms that are ideal for solo travellers. These rooms feature a private balcony. Some of these rooms have pool facing balconies, while some have balconies that face the lush green gardens. The superior rooms are slightly larger than the standard rooms and well suited for small families. All the superior rooms have balconies offering beautiful views of the lush green lawns in the property. The cottages are individual houses with a private balcony all on the ground floor. They are well suited for honeymoon couples.
All the categories of rooms come with amenities like air conditioners, tea and coffee maker, satellite television, telephone, geyser, wardrobe etc. Free Wi-Fi is available throughout the property. The hotel features a 24-hour front desk, room service, and currency exchange. Plus, guests can enjoy spending time in the swimming pool. A complimentary breakfast is available every morning for guests at the resort. Free parking is also available.
Nitya Resort, Calangute
Next on our list of the top cheap hotels in North Goa is the Nitya Resort in Calangute. The property is a family-friendly small hotel that brings the best of Calangute to your doorstep. The rooms offer a flat-screen TV, air conditioning, and a minibar, and getting online is possible, as free Wi-Fi is available, allowing you to rest and refresh with ease. Nitya Resort features a 24-hour front desk and room service. In addition, as a valued Nitya Resort guest, you can enjoy a pool and breakfast that are available on-site. Guests arriving by vehicle have access to free parking. When you're feeling hungry, be sure to check out Pousada by the Beach, A Reverie, and Souza Lobo, which are some seafood restaurants that are popular with locals and out-of-towners alike.
Acron Seaway Resort, Candolim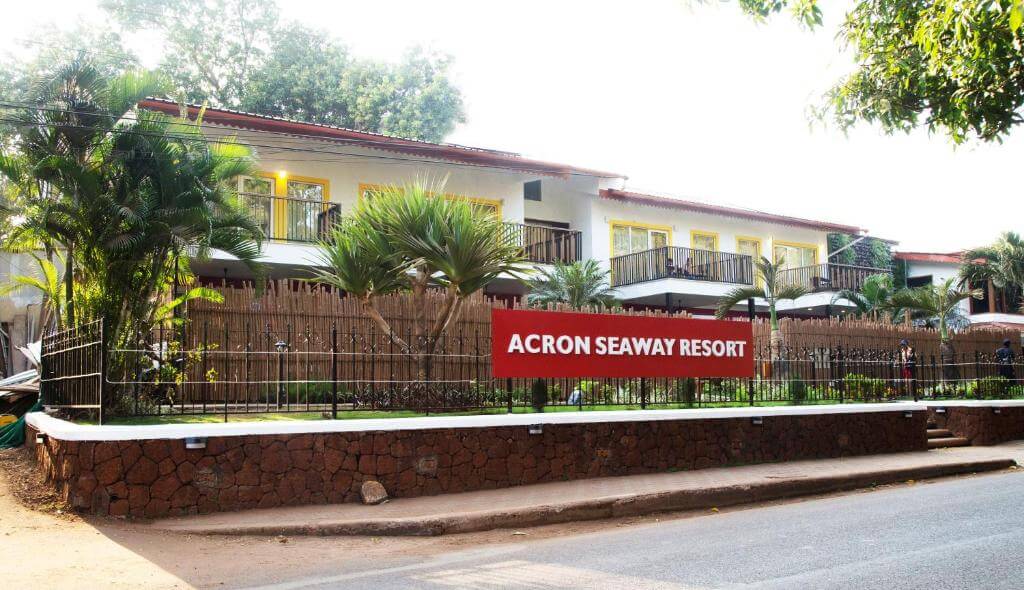 Located in the heart of Candolim in North Goa, the Acron Seaway Resort. offers 24 lush and cosy yet comfortable rooms that perfectly redefine luxury at its best. Furnished with the finest and a wide range of modern amenities this luxury contemporary resort property will not dishearten you. At Acron seaway resort, guests can get to experience the warmest hospitality, extraordinary service and a relaxed atmosphere which will leave them with an unforgettable experience embedded for a lifetime.
The resort has special rooms for differently-abled guests and ramp access to common areas. It also has a garden sit-out restaurant that serves authentic Indian food and a lounge bar above which serves all sorts of beverages. Fort Aguada is about 2 km down the road and the nearest beach is approximately 350 meters away from the resort.
Regenta Inn Palacio de Goa, Panaji
Regenta Inn Palacio De Goa is nested in the heart of Panaji city, with its Portuguese exteriors and contemporary modern interiors. It offers you all the facilities that go into making your holiday a truly unforgettable experience. The in-house multi-cuisine restaurant "SPICES" serves a variety of vegetarian and non-vegetarian dishes. The hotel's well-equipped conference hall and banquet services cater to your every need. Other hotel services include In-room dining, laundry service, safe deposit locker, local sightseeing tours, boat cruise, travel assistance, Rent a bike/car, etc.
Primo Bom Terra Verde, Calangute
This property is an eco-resort located just one kilometre away from Baga beach. The resort is made up of large stretches of land with man-made water bodies on either side that mimic seven separate lakes brimming with fish and crabs. A total of 55 wooden cottages are housed on large swaths of land. Almost every porch in each cottage has a view of one of the two lakes on either side. There's also an outdoor pool with a horse-themed cascade within the resort.
Coconut palms and various coloured flowers fill the stretches of land, with many multicoloured treetops. The abundance of greenery and tree cover attracts a large number of migrant birds, making bird watching a fun leisure activity. This vibrant and natural backdrop also makes for the ideal backdrop for all those Instagram-worthy photographs. The resort offers activities such as boating, fishing, and mini-golf.
Dom Carlos Resort, Arpora
Dom Carlos Resort is a modern hotel that is centrally located among the most popular areas of Goa. Goa's best beaches, nightclubs and markets are a short distance from here. The resort offers exclusive suites that have all the luxurious amenities needed for a cosy stay in Goa. The rooms at the resort are very clean and come with modern amenities. They are quite big and come with a view of lush greenery from the balcony. More importantly, the resort is in a very quiet and ideal location. It is not very far from Calangute, Baga or Anjuna and the neighbourhood has quite a few shops and good cafes/restaurants, all within walking distance. The staff working at this resort are very helpful and friendly. They will also arrange for a bike should you need one. An ideal place to stay if you are on a short trip as all the popular places are quite close, located in a peaceful and safe neighbourhood, and budget-friendly too.
Zense Resort, Candolim
This resort, located in Candolim, features 25 rooms and suites for all budgets, all with free breakfast and Wi-Fi. The property has a first-floor outdoor swimming pool, and a lounge with palm tree views for a great sunset. The resort is located in the heart of North Goa, within walking distance of Candolim Beach, nearby shops, restaurants, bars and clubs. The resort has an onsite restaurant, which serves unique veg, non-veg and seafood dishes.All the rooms at the resort are fitted with high-quality linen, AC, ceiling fan and HD dish TV. There is a private bathroom also in all rooms with a shower, western toilet, and hot/cold water. Housekeeping is provided daily, as is the provision of bottled water. Tea/coffee with a hot kettle, storage and in-room safe are standard in all rooms. Wheelchair access rooms are available for some rooms, though limited in availability. Most rooms and all suites boast furnished outdoor space.
Aromiaa Villas, Arpora
Aromiaa Villas is located a few steps away from the famous Arpora Saturday market, popular clubs like Cabana, Club Titos, and several casinos. After a long day of activities, you can enjoy your evening in a famous restaurant, cafe or nightlife just a few minutes away from this property. The place has a nice bar set up beside the swimming pool. The best thing here is their food. It was super delicious. They have quite a few good options for breakfast buffet and many options for lunch and dinner. The service provided is outstanding and the cleanliness is top-notch.
Hotel Shraddha, Mapusa
If you're looking for a romantic small hotel in Mapusa, look no further than Hotel Shraddha. The rooms at Hotel Shraddha offer a fireplace providing exceptional comfort and convenience, and guests can go online with free Wi-Fi. Room service, a concierge, and a newspaper are some of the conveniences offered at this small hotel. An on-site restaurant will also help to make your stay even more special. If you are driving to Hotel Shraddha, parking is available. During your visit, be sure to check out a popular Mapusa crab restaurant such as Spice Goa, which is a short distance from Hotel Shraddha.
Woke Hostel, Arpora
Lastly, on the list of affordable cheap hotels in North Goa is Woke Hostel. This property is a 120-year-old Portuguese house with an old-world charm, clean and comfortable dorms and damn good Wi-Fi. What makes this place a home though is its amazing host and of course, the people that visit this place. This place has got a very chilled out vibe and good service. If you are looking for an affordable and chilled out stay along with great Wi-Fi (for your workcation needs), then Woke Hostel at Arpora is the best place to stay at.
So, what are you waiting for? Start packing your bags and head down to one of these amazing cheap hotels in North Goa to enjoy a wonderful vacation with your family and friends. Book your rooms now.