Goans love a good drink after a long day at work. Our tiny state is no stranger to pubs. Pubs are relaxed social drinking establishments. Pub culture is more prominent in British, Irish, New Zealand and Australian cultures, to name a few. However, in Goa, most people have adopted pub culture as their own.  Where one would normally have gone out only on weekends before, this has given way to a more social life on a daily basis now.
Most pubs focus on offering beers, ales, and similar drinks. They also sell often sell wines, spirits, soft drinks, snacks and small meals. Music is a regular feature at pubs though usually at a lower volume.  Of course, Goa is not known for being a quiet place. That means the atmosphere in pubs in Goa is highly charged and everyone is out to have a great time.
Now, given that we have a long weekend coming up, here are some pubs in North Goa which are sure to give you a great time.
Pubs In North Goa
1 – Taverna Panjim
On the main road from Panjim to Miramar, Taverna is the latest entry into Goa's pub culture. While a little bit on the small side, the ambiance of Taverna hits you as soon as you walk in. It is done up in the typical style of pubs in Europe with high wooden tables and barstools and a few proper tables with chairs. The upstairs has an indoor and outdoor section. Popular nights every week and throughout the year are Wednesdays for karaoke, Fridays, and Saturdays with DJ music. Taverna Panjim is usually packed on all 3 nights. The drinks range from beer on tap to sophisticated cocktails and regular alcohol with mixers. Drinks are reasonably priced, making Taverna Panjim one of the most popular pubs in North Goa.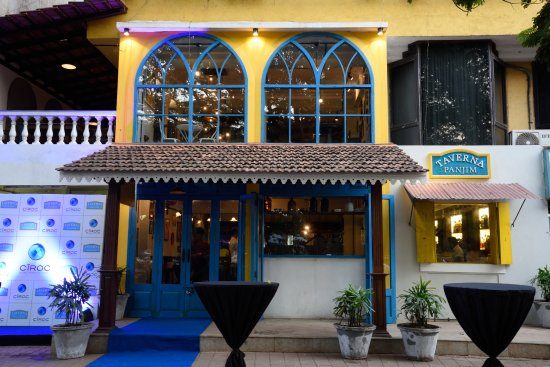 2 – Café Mojo Pub & Bistro (Panjim)
Located in Panjim, Café Mojo Pub & Bistro was the first English Pub in Goa to introduce the concept of E-Beer. It is a concept where you can pour beer into your glass from a beer tap on your table. Café Mojo offers a traditional pubbing experience. It has amazing English Pub Décor, coupled with a modern E-beer system and some live music to keep the people entertained. They have a wide range of foreign liquors and beers along with some delicious cocktails and shooters. And let's not forget some of Goa's top DJs to make you dance. You'll find a younger crowd at Café Mojo Pub & Bistro throughout the week.
3 – Cohiba (Sinquerim)
Cohiba is located on the road heading to the lighthouse in Sinquerim, near Vivanta by Taj- Fort Aguada. According to revelers and party-goers, Cohiba is probably one of the best venues to enjoy live music in Goa. You can start off with some lip-smacking food, move on to a fine collection of cocktails and finish off with some happy tunes played by the local bands and DJ music. The best nights to be at Cohiba are Wednesday nights, also known as Ladies night (every lady gets free Cosmopolitans). Other happening nights are Friday for salsa and Saturday with a live band and DJ music. Cohiba attracts a mix of young and old crowd, locals and tourists from far and near alike.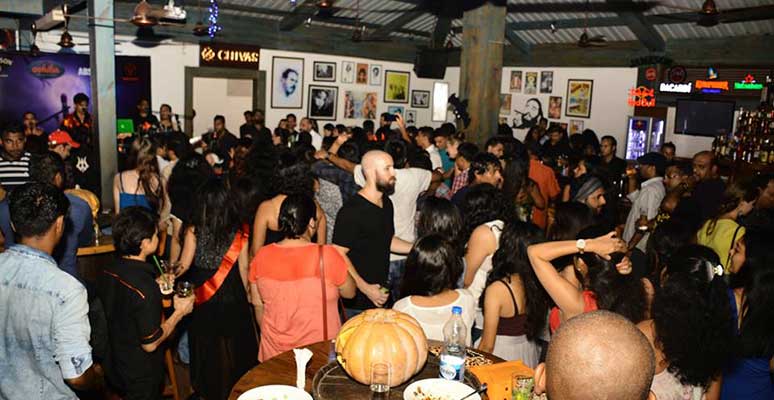 4 – Cavala (Baga)
It is located almost at the very end of Baga, just opposite the La Calypso Resort.  Cavala is one of Baga's more popular resorts and is located a stone's throw from its bustling beach. The resort has a restaurant which has been entertaining guests for over 20 years. Unpretentious and friendly, Cavala is definitely the preferred party destination for Goa's local and long-term residents. Cavala showcases local bands playing rock and retro and is usually buzzing. On weekdays you can enjoy softer melodies from the house piano. Friday and Saturday nights are the best nights for partying at this very happening place.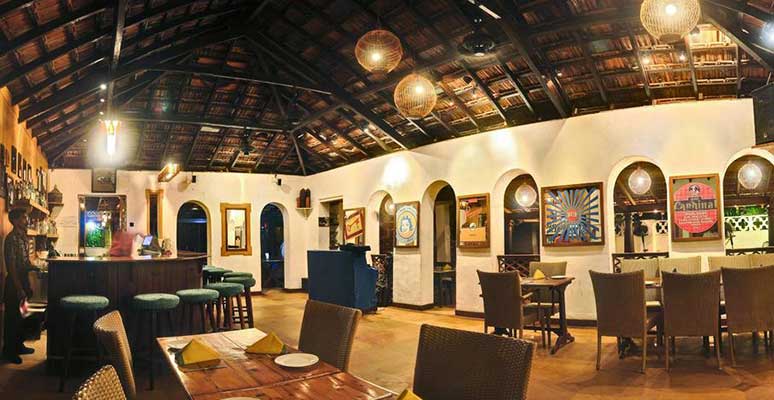 5 – Cocktails & Dreams (Baga)
Cocktails & Dreams is located in the heart of Goa's nightlife hub, on the world-famous Tito's Lane in Baga, North Goa.  It is an exclusive cocktail bar with great ambiance and lighting. The music and the friendly faces around make this place as lively as ever. Dance to some music or get entertained by the barman's flare while sipping onto some exclusive cocktails.
6 – Soro – The Village Pub (Assagao)
Soro has a very chilled-out vibe that hits you as you enter. Located in the sleepy little village of Assagao, it's definitely one of the nicer pubs to visit. They serve up some great drinks and fusion cuisine which will definitely tickle your taste buds. Make sure you drop by on Thursday, Friday or Saturday nights. Their Sangria is really something to rave about.
7 – Showbar Exchange
Showbar Exchange is the first of its kind in Goa, where liquid stock exchange will rise or fall according to demand. Basically, this means the cost of alcohol change according to how much is being demanded. Showbar is located next door to its sister club, Sinq Nightclub, on the main Candolim – Sinquerim stretch of road. The interiors are beautifully rustic and it is always full of people on Friday nights which are known to be 'stock exchange nights'. So if you're just a little bit curious as to how this works, go on and visit Showbar Exchange. Have a blast watching the prices of drinks go up and down. Just make sure if it's your favorite drink, you buy it when the price is low.

Cheers!!!!!
If you know of any other happening pubs in Goa then do let us know in the comments below.