Are you planning December in Goa this year? Well, it's not just Christmas and New Year that gives cause for celebration but we at ItsGoa.com bring you more reasons to be here. Come, be part of the buzz and indulge in the activities of your choice from art festivals, bazaars, music or Christmas shopping, do it all this December in Goa!
MORE REASONS TO BE IN GOA THIS DECEMBER
1st DECEMBER             –        JAZZ INDIA CIRCUIT INTERNATIONAL FESTIVAL
Listen to some international Jazz artists on tour.
Time: 6 pm onwards
Venue: International Center, Dona Paula, Goa
Entry: Ticketed.
1st & 2nd DECEMBER    –    MERCADO DE NATAL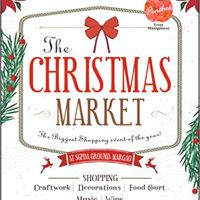 Shop to your heart's content at the Christmas Market laden with all the goodies necessary for a merry and bright Christmas.
Time: 5 pm to 11 pm
Venue: SGPDA Grounds, Fatorda, Margao
2nd  DECEMBER   –    KUSHAVATI HERITAGE TRAIL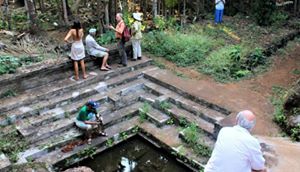 This Tour highlights the interesting sights, beautiful scenery, and a kaleidoscope of history to be found in the hinterland of Goa.
Time: 9.30 am to 5.30 pm
Venue: Starting Point Ravindra Bhavan, Margao, Goa (makeithappen.co.in)
Entry: Starting Cost Rs.2000/- per person
3rd DECEMBER    –    FEAST OF ST. FRANCIS XAVIER
A public holiday and a big day for the Goans. It is the death anniversary of Goa's Patron Saint – Francis Xavier. On this day people from all walks of life flock to the Basilica of Bom Jesus, Old Goa, to venerate the mortal remains of Saint Francis whose miraculously un-deteriorated body lies in a silver casket in the church. Worth a visit!
3rd DECEMBER    –    CELEBRATE ST. FRANCIS XAVIER'S FEAST
Celebrate the feast in a different way. Come together with friends and fellow Goans to wish each other Boa Fest over dinner and dancing to a live band at this beautiful beach-side resort Bay 15.
Venue: Bay 15, Club Enigma, Odxel Beach
Time: 7 pm onward
Entry: Ticketed. Book your attendance in advance, Phone: 0832 245 6231
7th DECEMBER     –     SOMETHING SUFI – A CELEBRATION OF RUMI
A celebration of Rumi. An active workshop on the teachings of Sufi Mystic Rumi.
For the poets and cultural buffs, those interested in Sufism, what better way to spend the day!
Time: 6 pm to 9 pm
Venue: Village Studio Goa
Entry: Ticketed
7th to 10th DECEMBER     –     ABSTRACT ART GETAWAY IN GOA
This is an immersive residential art retreat on Contemporary Abstraction. It's the "art getaway" you have been waiting for.
Time: Starts at 11 am 7th December to 3 pm on 10th December.
Venue: Curioso Studio and Suites, house 66/B, Siolim-Chapora Road, Goa
Entry: Ticketed
8th  & 9th DECEMBER    –     FOREVERLAND CONCERT TOUR
A Magical Touring Circus. Concert Tour. For the music lovers and cultural enthusiasts, this is the place to be. So get yourself booked before it's too late.
Time: 9 pm to 3 am
Venue: Near Kadamba Bus Stand, Panaji, Goa
Entry: Ticketed
9th DECEMBER     –     GOA RIVER MARATHON 2018
For the sports enthusiasts and those interested in a fun day out, come watch or participate in the exciting race and take in the sights and sounds of the river Zuari alongside.
Time: 4.00 am
Venue: SAG Cricket Ground, Chikalim, Vasco, Goa
Entry: Sponsored / Free
9th DECEMBER     –     DUO FARINALDI RECITAL
An evening of music with India Tour Duo Farinaldi. Piano recital. Relax to the tunes of the piano.
Time:  7.30 pm to 10.30 pm
Venue: Menezes Braganza Hall, Panjim
Entry: Ticketed
9th DECEMBER     –     WINTER JAM POP UP BAZAAR
A Christmas Shopping Extravaganza. Shop for all that is Christmas under one roof.
This bazaar is a one-of-a-kind market where local produce is promoted. Local handicrafts and artisans, home-made sweets and crafts especially for Christmas. You won't regret the visit.
Time: 4 pm to 10.30 pm
Venue: Green Amaze, Gogol, Margao
Entry: Free
15th to 22nd DECEMBER     –     SERENDIPITY ARTS FESTIVAL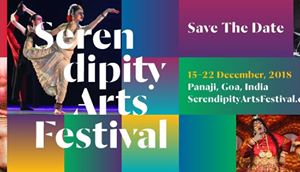 Serendipity Arts Festival (SAF) is the largest outreach program organized by the Serendipity Arts Foundation. Set over a period of eight days in the vibrant settings of Panaji, Goa. This is a multi-disciplinary arts event curated by a panel of 14 eminent artists and institutional figures across visual, performing and culinary disciplines, across 10 venues with 80+ projects that will transform Panaji into a vibrant cultural space, with multiple exhibitions, performances, and immersive arts experiences.
Venue:  Across Panaji
Time: 10 am to 10 pm
Entry: Ticketed / Free
16th DECEMBER     –     THE WINTER FLEA 2.0 POP IT UP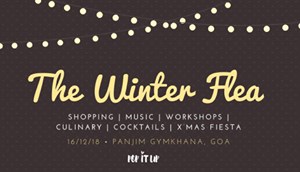 This Flea Market promises to be an all-in-all affair with shopping, music, workshops, culinary delights, cocktails, and the X-Mas Fiesta.
Time: 11 am to 9 pm
Venue: Panjim Gymkhana Grounds, Panjim
Entry: Free
Now that you have the reasons to be in Goa this December, what are you waiting for? Head over to the party capital and have a wonderful, merry time.