How's Goa in July you ask?

A fresh sea air blows all day long, there are less tourists in Goa during the monsoon, and hotel and flight costs are lower.

Although the weather is great for families and couples looking to relax, July is not the best month to travel if you want to lay down on the beach and catch some rays.
Monsoon season is in full swing in Goa in July. Almost daily rain is to be expected. Higher levels of humidity, precipitation, and wind speed are all present. On days when it rains, the sea might be choppy. July is colder than June due to the average high of 28.9°C and low of 24.1°C. July is undoubtedly a more comfortable month due to the cooling temperatures. The long Indian summer has officially ended.
In July, following the summertime slowdown, tourists are once again visiting Goa. It is among the year's wettest and greenest months.

Goa is incredibly romantic during the rainy season because of the cloud cover, brimming rivers, lush vegetation everywhere, and cooler temperatures. Goa has actually become a pretty well-liked monsoon destination in recent years.

Read more about the ultimate travel in Goa by clicking here
Weather in July
Because we are currently in the middle of the rainy season, Goa's July weather is colder than it is during the summer. Goa often experiences the monsoon in early June, so by July it is raining heavily. In reality, July is typically the wettest month in Goa. Daily rainstorms are common, and they may last for many hours. In July, it typically rains for roughly 27 days. However, there will still be dry and bright intervals in between those rainy spells, and those are the best times because it isn't as hot as in the summer. There will be lots of clouds and choppy seas. There will be warm water in the sea. If you intend to go swimming, exercise caution because riptides can occur.
In Goa, July is monsoon season. On average, there are 27 rainy days every month. Thunderstorms are possible occasionally, however they are uncommon. This month, there are six hours of sunshine each day in Goa. Compared to June, the average temperature is lower. Nice and calm winds are blowing. It is cooler and much more enjoyable.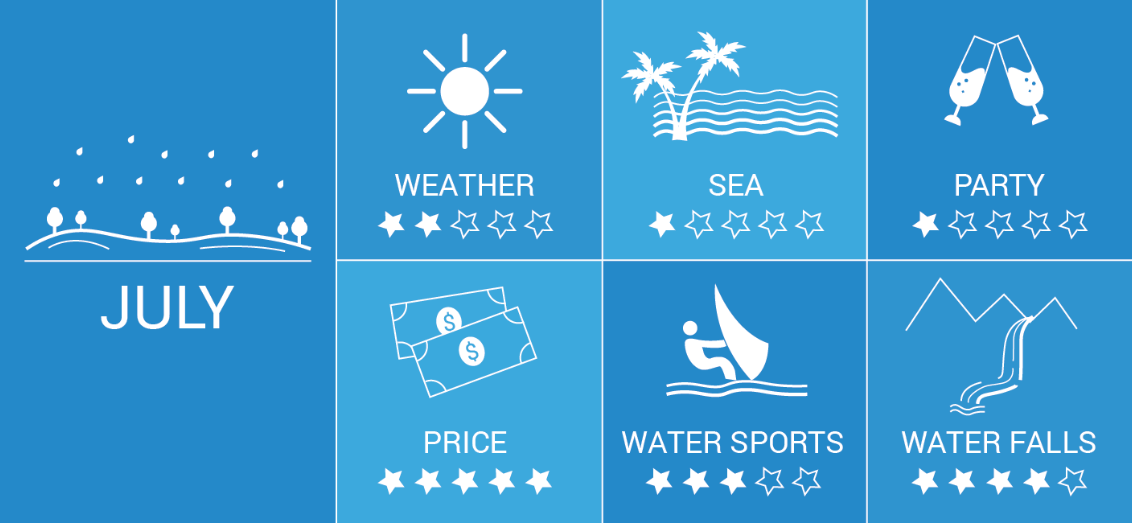 Climate in Goa
Month Jan Feb Mar Apr May Jun Jul Aug Sep Oct Nov Dec Year
Average high, °C – 31,6 31, 5 32, 0 33, 0 33, 0 30, 3 28, 9 28, 8 29, 5 31, 6 32, 8 32, 4 31, 3
Average low, °C – 19, 6 20, 5 23, 2 25, 6 26, 3 24, 7 24, 1 24, 0 23, 8 23, 8 22, 3 20, 6 23, 2
Average precipitation mm – 0, 2 0, 1 1, 2 11, 8 112, 7 868, 2 994, 8 512, 7 251, 9 124, 8 30, 9 16, 7 2926
The amount of precipitation gradually increases over the month. By the end of the month, it should reach about 89 percent, up from about 78 percent on July 1st. July wind speeds range from a light breeze of 2 m/s to a moderate breeze of 6 m/s. Rarely does it exceed 9 m/s.
There may be a lot of humidity. The relative humidity in Goa ranges from 70%, which is regarded as somewhat humid, to 95%, which is highly humid. Rarely does it fall below 57 percent.

Read more about how to spend 24 hours in Goa by clicking here
Goa Beaches in July
Even ten years ago, there weren't many tourists in Goa during the monsoon. Even if this is no longer the case, you will still find the beaches to be remarkably deserted. If you prefer rain, July is a wonderful season to travel to Goa.

Even though Goa is one of India's smaller states, it has more beaches than any other coastal region on the continent. Imagine uninterrupted lengths of glittering gold beach, swaying palm trees, and calm, azure waves that will supposedly ease the strains of your India travels. Additionally, Goa is a simple vacation addition to any journey to South India because it is only one hour and fifteen minutes by flight from Mumbai.

Whatever you're looking for, Goa has coastline destinations that will complement your personal vacation preferences. Families are welcome to visit Benaulim Beach. The preferred location for would-be surfers is Agonda Beach. Butterfly Beach is a fantastic off-the-beaten-path destination for tourists.

Listen to what a goan local has to say about living in Goa by clicking here
Sea in Goa
Despite being cleaner due to all the rain, the sea may still be rough. Be sure to check the weather before going swimming. Normally, Grande Island is off-limits. On those times when it doesn't rain, you can still go snorkeling for a little while.

The "sunshine state" of India has long offered a sanctuary for people seeking the sun, sand, and sea. It's little wonder that so many people choose to spend their beach vacations in Goa, which boasts 105 kilometers of breathtaking coastline and an unending variety of gorgeous beach locations. The tranquil and picturesque state is all about leisure; in fact, the only worry you're likely to have while on vacation in Goa is deciding which beach to go to.

Read more about the ultimate beaches in Goa by clicking here
Parties in Goa
Goa's nightlife is renowned for being exhilarating, wild, colourful, and plain amazing. Whatever style of partying you prefer, you'll find it in abundance here, from posh nightclubs to crazy beach shacks via dive bars, cozy pubs, and everything else.

Throwing shapes is the most popular activity in Goa after sundown. Of course, there is more to this stunning region of the world than wild parties, but vice has always been a significant component of the overall Goa experience. This is the spot to let your hair down if you're going to do it anywhere. In July, Goa has a few events, particularly in North Goa.

Most often weekend visitors, the crowds have returned, and the busiest nightclubs are once again full. Look for weekend monsoon events, such as rain dances.

Read more about the ultimate parties in Goa by clicking here
Water sports in Goa
Goa has a long, unbroken coastline with waves that are often quieter and the sea floor is level. While water sports can be practised in Goa at any of the beaches in the north or south, Baga, Calangute, Benaulim, Candolim, and adjacent beaches see the greatest popularity and crowds. While there, you have a variety of water sports to select from, including diving, kayaking, parasailing, snorkelling, kneeboarding, and kite surfing.
There are many vendors of these water sports on the beach, so if that's what you want, you can choose to participate in those activities there. You can also participate in your preferred activities through a variety of authorized water sports package providers, like Atlantis Water Sports, Aqua Sports Goa, etc.

Due to the cloud cover and choppy water this month, there are very few opportunities for water sports. It might be dangerous. On days when it doesn't rain, you can swim for no more than a short while. But remain near the shore. However, due to the abundance of water in the rivers brought on by the rain, the monsoon is a fantastic period for white water rafting.

Read more about the ultimate water sports in Goa by clicking here
Shacks in Goa
Goa has everything for every kind of traveler, from white, powdery beaches to azure oceans, from rich cultural heritage to opulent lodgings, from music festivals to cutting-edge architecture. The idea of seaside shacks, which provide delectable food in the midst of a buzzing setting where you can relax under the sun while downing your drinks, is another well-known feature of this tiny city.

Most importantly, on your next trip, don't forget to enjoy the amazing ocean views at these top shacks in Goa while you tuck into the delectable cuisine. This month, most beach shacks are closed. The only ones that are open are the largest and the permanent ones. North Goa is where most of these shacks are found.

Read more about the ultimate water sports in Goa by clicking here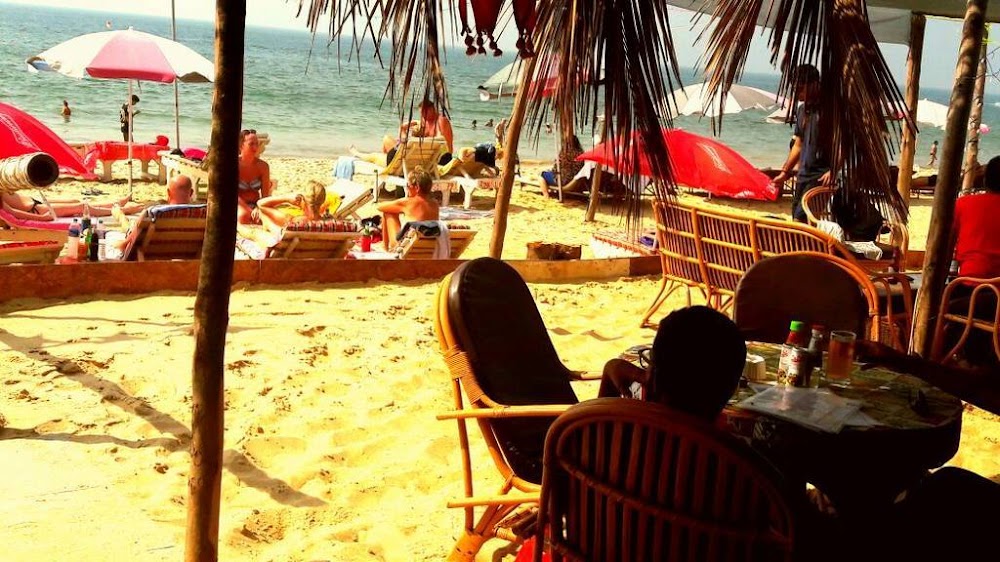 Festivals in Goa
The Sao Joao festival is the ideal event for you if you're interested in a Bacchanalian carnival with drunk men jumping into wells. The festival of Sao Joao, which honours St. John the Baptist, dates back nearly 150 years, to when celebrants from the Anjuna villages of Chapora and Zhor, Badem in Assagao, and Siolim would travel by boat to the chapel of Sao Joao in Periera Vaddo, Siolim, year after year to pay respects to the saint.

According to legend, St. John reportedly leaped for gladness when he learned of Jesus' impending birth; this is what the custom of leaping into water during celebrations represents. You may need to watch your walk to prevent running into inebriated partygoers because feni flows freely. Bright clothing and elaborate headpieces made of leaves and flowers are displayed. When you've got your fill of amusement, you can always head to Ponsachem Fest in the village of Socorro, which commemorates the same event, and gorge yourself on some of the finest jackfruits.

On July 29, Touxeachem Fest is celebrated at the Church of St. Anne, also known as the Santana Church. The Basilica de Bom Jesus is not far from the church. On this day, people from all over Goa, primarily newlyweds, visit the church to express their wishes for a good marriage or a child. Because people bring cucumbers to the church to offer to St. Anne, the celebration is also known as the Cucumber Feast.
Chikhal Kalo is a long-running, entertaining celebration that features mud fights. It takes place in Marcel close to the Devki-Balkrishna temple. Mud games come in all shapes and sizes, and there are bells and drums playing in the background. Each participant receives a full mud bath. At the end of July, it takes place.

Read more about the ultimate festivals of Goa guide by clicking here
Prices in Goa
Goa is cheaper in July compared to the peak season, even though there are many tourists to enjoy the rain. The prices tend to go up during the weekends. Prices of basic products in Goa are lower than in United States. You have to pay 2.61 times less for shopping in Goa than in United States.

Using public transport in Goa comes at a cost of: 15 INR for a one-way ticket. The price for renting a car in Goa (e.g. Volkswagen Golf or Toyota Corolla) to 1,500,000 INR. If you prefer taxi, remember that the price of a taxi in Goa depends on several factors. Taxi starting price is about: 94 INR. For 1 km ride in Goa you have to pay about: 20 INR.
Pros and Cons of Monsoon in Goa
Lower Costs – Since there are less tourists in July, nearly everything will be less expensive. This includes the expense of lodging, travel, renting a car or bike, purchasing meals, and even paying retail prices. Even plane tickets will be more affordable.
Power Outages – When it rains, there may be power outages. The majority of large hotels, resorts, and villas have backup power systems, so the electricity usually returns fast. You don't need to remain in the shadows.
Less Tourists – Since there are significantly less visitors in July, the beaches will be cleaner and more pristine. Many of the beaches, especially those in the North, can get highly crowded during prime time. There may be a rush to find a lounger. You may appreciate nature and take lengthy walks on the beach in July.
No Water Sports – In July, the majority of water sports activities will be suspended. You can still swim in the sea, but it's best to stay out of the water because the waves will be bigger and there might be riptides as well. Many beaches have lifeguards, so be sure to always check before swimming.
Goa will be much greener and cleaner during the monsoon because there won't be as many tourists there. It goes without saying that the rain will make Goa lush and green. Try the forests, waterfalls, and spice plantations in July. At this time of year, they will look their best.

Beach Shacks Are Closed – Numerous restaurants and bars, as well as numerous beach shacks, will be closed. However, there are still a lot of restaurants and bars operating in Goa in July. There will still be many large restaurants open, especially at the larger beaches.
There are no lengthy lines or waiting periods at the pubs and restaurants. At any of Goa's numerous tourist sites, there are no lines.

The markets are closed in July, including the Anjuna Flea Market. It debuts in September on a modest basis and picks up in November. Additionally, in July, the Mackie's Night Bazaar will be shuttered. However, there are still a lot of stores open in July.
There is a lot of rain in July because Goa is in the heart of the monsoon season. Every day there can be rain, sometimes a lot of it. There can also be unexpected thundershowers. However, the mix of the sea and the rain has a certain charm that makes Goa extremely romantic during the rainy season. The beauty of Goa at this time of year is enhanced by the clouds over the sea, the rain, and the rainbow following showers.
In reality, the number of local and foreign tourists visiting Goa during the monsoon has been increasing in recent years, making this season the second most popular for travel there after the winter.
Top Things To Do in Goa in July
Visit the Dudhsagar Waterfalls, which will be at their most beautiful during the monsoon. One of Goa's most breathtaking vistas is located 47 kilometres from Margao along the MDR52. If you get too close, you'll get wet from head to toe. From Castle Rock, you can drive or hike to the falls.
The Plantations of Spice – In July they are at their greenest. Savoi, Sahakari Spice Farms, and the Tropical Spice Plantation are just a few of the options. Numerous fruits, spice plants, exotic flowers, and hundreds of orchids will be present. Wild birds, monkeys, and an opportunity to bathe with elephants are all present at Sahakari. Eat a lunch of ethnic cuisine on banana leaves.

The Wildlife Sanctuaries – Again, there are numerous choices. Select from the Bhagwan Mahavir Sanctuary, Bondla Wildlife Sanctuary, Mhadei Wildlife Sanctuary, and Mollem National Park.
Additional Attractions include the Basilica de Bom Jesus, a UNESCO World Heritage Site, the Church of the Immaculate Conception, the Se Cathedral, the Church of St. Cajetan, and the St. Francis of Assisi Church.

Chapora, Aguada, and Betul are the forts. In July, the sea appears to be magnificent from above.
the Old Goa and the Latin Quarter.
July Checklist for Goa
Pack clothes that is waterproof and will keep you dry in July. If you intend to visit the plantations, Dudhsagar Waterfalls, or national parks, also bring an umbrella and sturdy footwear. Don't forget to bring a torch, too.
Water rafting in Goa
Since it is believed to be excessively unsafe, Goa does not provide any water sports in July. However, whitewater rafting is one sport that is likely to excite thrill seekers. In July, the rivers and backwaters are all full, making this adventure sport ideal. The ideal month for this is July.
There are rapids for every skill level, both simple and difficult. In Goa, you may do whitewater rafting on the Valpoi River, the Mhadei River, and the Mandovi River. For just 1,500–2,000 INR per person, get the essential training, rafting equipment, life jackets, and the whitewater rafting experience.
July hotels in Goa
The cost of hotel and resort rooms will be lower than during the winter (peak season), but costs will probably be higher than during the summer. During the weekends, there is really a moderate demand for services because a lot of visitors travel from Mumbai, Bangalore, and Pune to enjoy the rain at the seaside. If you're thinking about taking a weekend trip, make your reservations early.
In July, the majority of the major resorts and hotels will be open. The personnel numbers may be lower for home stays, inexpensive hotels, and smaller establishments. As a result, the service's quality can degrade.
Top Reasons for Visiting Goa in the Off-Season
The national parks, wildlife sanctuaries, and spice farms are excellent alternatives to Goa's beaches if you want to go swimming during the monsoon. These months are prime time for activities like hiking, bird watching, and white water rafting. Additionally, you can benefit from off-peak season rates and savings on lodging, meals, and travel. Goa will be especially enjoyable at this time for those seeking a laid-back getaway from their hectic life.
Lesser Crowd in July
Except for July, Goa's beaches are crowded with visitors all year round. You may easily find a quiet area (like a beach chair) at this time to put on some sunscreen, relax, and take in the sun. Only one catch exists. There will be less sun and more clouds because to the heavy rainfall. So, before leaving, check the weather on your mobile device. It won't be difficult to book hotels and flights on-the-spot, so don't stress about doing it in advance.
Cheap Prices
You're on a tight budget. The greatest time to visit Goa without breaking the bank is in July. There won't be as many people around because July isn't a popular month. Fewer people means less lodging, travel expenses, rental bikes and vehicles, as well as food and beverages.
Spectacular Greenery
Goa's forests are ideal for hiking, and July is the best month to take a convertible for a spin among the hills. In either case, the rains turn Goa lush and verdant, creating a sight to behold. The waterfalls and spice plantations are also at their most beautiful during this time.
Cleanliness
As a result of the rains washing away the dirt and filth that is typically present during peak season when people carelessly trash on beaches and at the sides of roads, Goa is significantly cleaner during the monsoons than during other seasons.
River Rafting
If you regularly travel in search of adventure, going to Goa in July might be the best option. The rivers are rough and the rain is falling heavily, which are both indicators of an amazing and thrilling river rafting adventure. You can anticipate class rapids for grades 2 through 5. The Goan monsoon season is the ideal time to learn how to whitewater river raft and improve your rafting skills in Goa's natural rivers.
No Waiting
During the busiest times of the year, all tourist attractions, eateries, bars, and clubs are crowded. however, not in July. At this time, reservations or waiting lists for tables at restaurants would not be necessary. There won't be a line to order a drink at the bar, and the dance floor will be big enough for you to show off your moves. As there won't be any long lines, you could also visit national parks including Bondla Wildlife Sanctuary, Mollem National Park, and Mhadei Wildlife Sanctuary.
Top Things to Do in Goa in Monsoon
Visit Dudhsagar Waterfalls
Goa's Dudhsagar Falls are most impressive during the monsoon season. To reach the waterfalls, which are located inside a tropical forest and are fed by the River Mandovi, one must hike through a dense forest and alongside railroad tracks via the Mahavir Wildlife Sanctuary. But if you are unable to, relax! Catch a train that travels through the falls to experience nature's power! Even while you might not be able to get very near to the falls, the hike offers a stunning visual perspective of the falls, which is breathtaking!
Night Clubs and Bars
Goa is typically more popular with tourists in the winter or during the summer. Consequently, travelling to Goa during the monsoon would be considered out of season. At order to avoid being troubled by throngs of people everywhere, you may go club hopping and partying in Goa's bars without having to worry about the venues being packed.
Go Exploring
Do you want to recreate the Goa street scene from "Dear Zindagi" where Alia Bhatt is riding a bike? Then going to Goa during the rainy season would be ideal! You can ride your hired bikes or two-wheelers and explore the lovely rural sections of Goa because the roads are not as congested as they would be during peak seasons. If you don't want to get soaked and enjoy the rain while you explore, make sure to bring your raincoat.
Long Walks Along The Beach
Sometimes, keeping things simple is best. Even if you are unable to go hiking or whitewater rafting, you can still take in Goa's monsoon splendour by visiting one of the region's many picturesque beaches. The beaches in Goa are comparatively quiet and less crowded because it's not a popular time for tourists to visit. Who wouldn't enjoy a stroll along the serene waters that ended in tranquilly and peace?
The Sao Joao Festival
Think again if you thought the Goa monsoons were boring and miserable! since this is when the renowned Sao Joao festival is celebrated. The entire state, notably North Goa, is decked out in vibrant decorations and boats, giving the impression that a carnival is taking place. Saint John the Baptist, the fiery prophet who baptised Jesus in the Jordan River, is honoured in Sao Joao. Sao Joao, which is observed on June 24th, begins with a Mass at the church of St. John the Baptist in the community of Benaulim (north Goa). Then, while singing "Viva San Joao," the young people of Goa perform an astounding feat: they get wasted and jump into streams and wells. Men, typically young boys, knock on doors to request alcohol and fresh produce.
Fresh Cuisines, Fresh Fish
Goa offers seafood and regional Goan and Konkan cuisine all year long, but during the monsoons, when the oceans and rivers flood to their maximum capacity, fresher fish and shellfish are more readily accessible, food may taste a little bit better. So while you're in Goa, embrace your inner foodie and sample some new dishes!
Visit the Forts
Live out your fantasy of touring Goa's forts, much like in the film "Dil Chahta Hai." The forts have a majestic appearance in the summer and winter, but when the monsoon arrives, they acquire a completely new appearance. It is surrounded by lush vegetation, you can smell the wonderful scent of the ground after a rain, and the dust on the buildings is washed away to expose a site with a neat aesthetic. So get out your cameras and start snapping away—this location is worth a trip!
Explore Spice Gardens
Interested in aromatherapy? So stop looking now! One of the unusual things to do in Goa, especially during the monsoon season, is to visit the spice gardens. You can benefit from the aromatherapy benefits of nature by breathing in the scents of various spices, a fresh breeze, and petrichor after a rainstorm. You should go to Goa during the monsoon season for this additional reason.

Read more about the ultimate offbeat Goa guide by clicking here
Useful Tips for Goan Tourists
When planning a trip to Goa during the monsoons, keep in mind that the humidity can range from 70 to 80 percent and that the average temperature might range from 28 to 30 degrees. So keep in mind to pack lightly and consider the weather.
Don't forget to take waterproof covers for your baggage and technology as well as raincoats.
Off-season rates on hotels may be available to you. However, given the scarcity of tourists, your selections may be limited.
Always carry bug spray and repellant against mosquitoes.
Even while seafood may be fresh, stay away from street food because it can degrade quickly and easily due to the weather.
Don't pay too much attention to the list of drawbacks because Goa never lets you down. Goa is perhaps best known for its beaches, but it's time to dispel the idea that visiting during the rainy season isn't worthwhile.